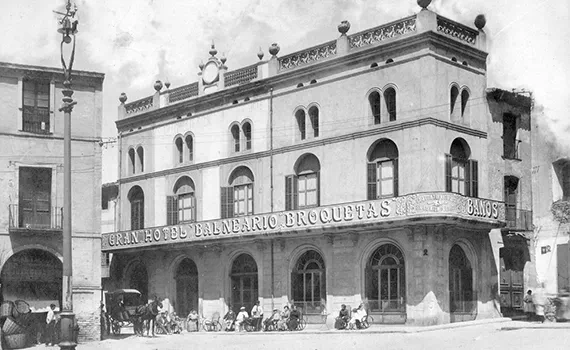 Broquetas Spa Termal has existed for many years, but was rebuilt in 1770. It can be said to have more than two centuries of history, as its most important activity began in this year, when the old Hostal de Can Vicenç was refurbished. Since then it has undergone several modifications and extensions. The Hostal Can Vicenç was part of the houses that Salvador Broquetas acquired to build a bathhouse. Its owners, Juan Broquetas and the apothecary Salvador Broquetas, were the authors of the book 'Luz de la Verdad, Tratado de las aguas termales de Caldes' (1790), of which a facsimile edition was made on the occasion of the Primeras jornadas de medicina y Balnearios los Países Catalanes (First Days of Medicine and Spas in the Catalan Countries).
The Broquetas Thermal Spa began its activity in 1729, when its founder, Salvador Broquetas, built the first bathhouse where the current spa is now located, to which it gives its name. Initially, the spa was a three-storey building which, over the more than two centuries of its history, has continued to be extended to incorporate all the comforts for our clients, such as parking, gymnasium...
The predominantly Art Nouveau style coexists harmoniously with more heterogeneous areas resulting from successive transformations. An authentic Roman sauna (vaporarium) from the 2nd century, in the form of a natural stone cooker covered with a vault, around which the Romans sat on stone benches, is still preserved in the baths gallery.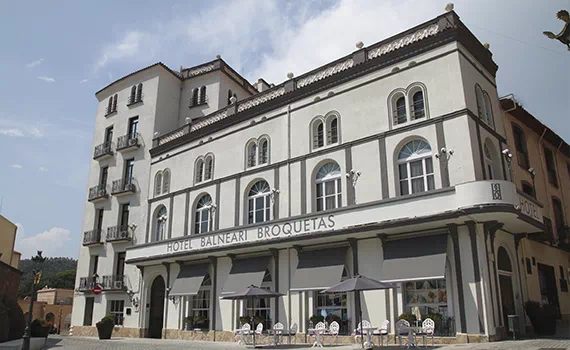 The Broquetas Thermal Spa complex currently has 78 rooms, a gallery of thermal baths, rooms for massages, body and beauty treatments, a heated indoor and outdoor swimming pool open all year round, large gardens, private car park, El Jardí restaurant, reading rooms, coffee and snack point area and fully equipped rooms for holding seminars, banquets, cocktail parties and social events. We also offer our guests mountain bikes for excursions and free wi-fi.